The RAF out of touch??
Right Gang, never let it be said that the RAF are behind the times. "Why?" I hear you ask, well let me explain...........
The advert (pictured below) recently appeared in a Station magazine. "What is wrong with that?" you shout. Well picture the scene..... A young Flight Lieutenant WRAF, yes imagine it lads, attractive, young, sexy (right, yes we get the picture!!) oops sorry got carried away! Anyway, aforementioned young female Officer sees advert for a massage parlour and thinks 'that work out in the Gym yesterday has left me feeling a little stiff, I know I'll go get a massage' well imagine that poor girls surprise when she walks into the aforementioned parlour, only to find the place full of sweaty workmen, old men in flasher macs and a persistent odour of vaseline!! Shocked! you'd better believe it!! Ha ha ha!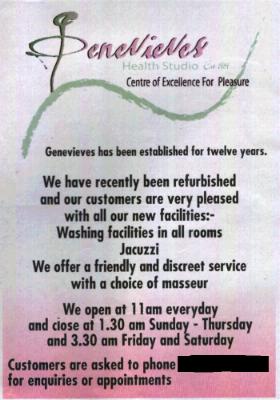 The thing I find incredible is that why did alarm bells not ring for either the editor of the publication or the unfortunate Flt Lt when they initially read the advert. Hello!! Please! What 'normal' masseur closes at 3.30 in the morning on a Friday and Saturday night?? And the wording 'we offer a friendly and discreet service'
(My God, what is that noise? Oh yeah that would be the alarm bells!! ha ha ha!)
God bless naiviety! I'm sorry, I find this extremely amusing. So eat your heart out Cynthia Payne, yes you may have 'entertained' the top politicians and society figures of your day, however I don't believe you ever managed to get an advert in to your local RAF Stations magazine did you?!?! And as for the massage parlour in question, Genevieves, GOOD WORK!! I am impressed! (
So do I get a free rub down then?
) And lads, you may have noticed I have removed the parlours telephone number so if you want it, call me on 0800-PULL-YOUR-OWN.
Say my rank bitch!! ha ha ha ha ha ha ha ha ha ha ha ha ha.......
Right, talking of adverts I have just received this off a friend, yes I do have a couple ..... honest!! Any road up, I'm sure there are a few other guys out there that know this feeling!!